FedEx Express Tracking
Tel: +1 800 247 4747 | Website: www.fedex.com
Type your FedEx tracking number below, get live delivery information with our express tracking system.
About FedEx Express

FedEx Corporation is an American multinational courier delivery services company headquartered in Memphis, Tennessee. The name "FedEx" is a syllabic abbreviation of the name of the company's original air division, Federal Express, which was used from 1973 until 2000. The company is known for its overnight shipping service, but also for pioneering a system that could track packages and provide real-time updates on package location (to help in finding lost packages), a feature that has now been implemented by most other carrier services.
FedEx Tracking Help
If you have problem with our express tracking system, please track your package directly on the FedEx website.
If you get no tracking information from FedEx official website, you'd better contact them.
FedEx Frequently Asked Questions
What is FedEx Tracking Number Formats
The most common fedex tracking number format is 12 digits (e.g. 9999 9999 9999) or 15 digits (e.g. 9999 9999 9999 999). Some other less common formats may also exist, such as 20 digits and 22 digits.
Here is a waybill sample which shows the FedEx tracking number is 8486 2519 3809.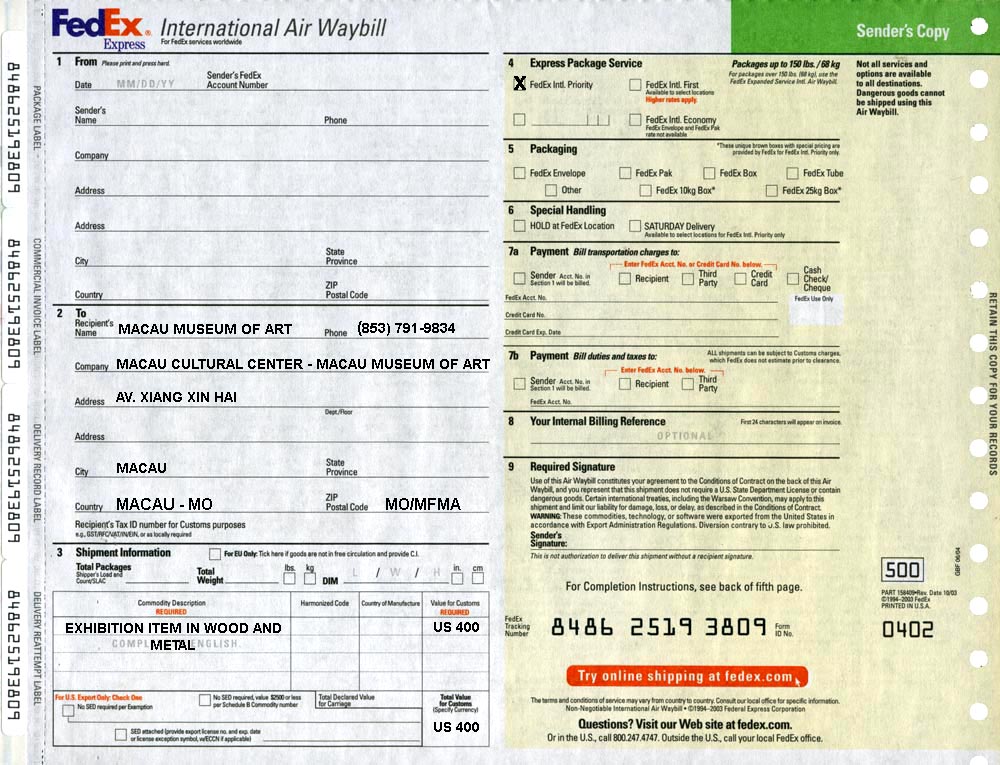 How Many Ways to Track FedEx
Whether you use shipment tracking information to improve your bottom line or are simply looking for some peace of mind, FedEx provides several methods to help you track your shipment status.
Track by Tracking Numbers
FedEx uses FedEx tracking numbers to identify and trace every shipment as it moves through the FedEx system to its final destination. A tracking number for FedEx express tracking is automatically assigned when you create your shipment. You or your customer can use this number to:
Determine the current status of your shipment
Verify delivery of your shipment
Access delivery change options
Track by Reference
If you do not have a tracking number, you can track by reference number. Choose how you would like to search from the Reference Type menu and enter your FedEx Express account number and up to 25 reference numbers of your selected reference type.
Track by Door Tag Number
Door tag numbers start with the letters "DT" followed by 12 numbers. If entering more than one door tag number, click on the underlined tracking number to get more details. You can enter any combination of up to 30 door tag tracking numbers at a time. Please ensure that you enter only one door tag per line.
Note: Door tags are available in the U.S and Canada only. 
Track by FedEx Office Order Number
You can enter up to 30 FedEx Office order numbers at a time. Please ensure that you enter only one FedEx Office order number per line.

Note: FedEx Office orders are available in the U.S. only.